Blog / 4 Bed Frame Styles To Complete Your Master Bedroom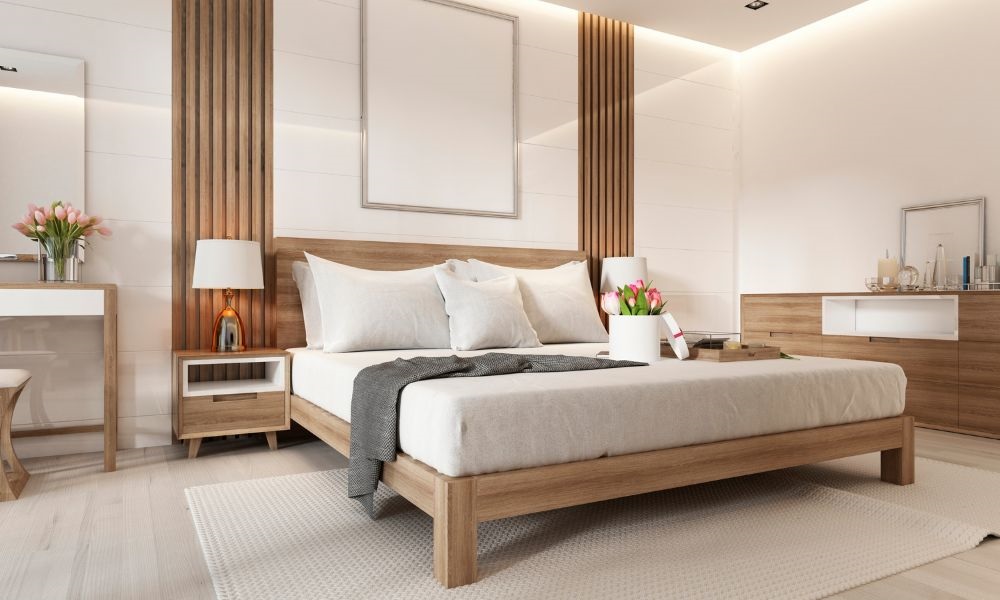 4 Bed Frame Styles To Complete Your Master Bedroom
Your home is your escape from the outside world. When you need to escape further and relax, you should feel comfortable doing so in your master bedroom. If you're looking for furniture to complete your master bedroom and turn it into that comfy oasis, Grand Furniture can help. Keep reading to learn about four bed frame styles to consider including in your oasis.
Rustic Farmhouse
The rustic farmhouse style is a popular choice for many people. Natural elements such as wood and leather are popular in this style, including in bed frames. Most rustic farmhouse bed frames are made of wood or finished with faux wood that has obvious wood grain. Some include additional details, such as lighting for easy reading in bed. Look for the style that best matches the furniture you already have or are planning to buy, and include features you know you'll use.
Comfortable Contemporary
Contemporary designs are sleek and sophisticated, and they often come in light, neutral colors. Many people enjoy this style because it's calming to look at, which can help you relax. For extra comfort, bed frames in this style may build those sleek, sophisticated lines with plush materials and upholstery. To maintain those sleek lines, many do not have footboards. If you want a bed frame with a footboard, you may have to consider a different style.
Plush Elegance
Some people want their bedroom oasis to pamper them, and the plush elegant style can do just that. Plush elegance provides comfort through soft materials with elegant details, such as tufted upholstered headboards on a bed frame. To complete the plush elegant style in your bedroom, you can add rugs and throw pillows in matching colors and materials. For maximalist elegance, choose highly textured materials in vibrant or jewel-toned colors. For minimalist elegance, choose sleeker materials in neutral colors. A plush elegant bed frame can support either style as long as it's the right colors.
Simple Traditional
There's nothing wrong with liking the traditional bed frame styles you grew up seeing. These bed frames and room styles come in clean lines and basic colors. They're often made of wood and come in basic neutral colors so you can use them in any way you choose. Other simple traditional bedroom elements include dressers, mirrors, and nightstands that match the bed frame. However, you can use a simple traditional bed as part of contemporary or bohemian styles depending on the colors and other elements in the room.
No matter what bed frame styles you're looking for, Grand Furniture can help you find the right one to complete your master bedroom. If you're interested in a specific style or size and are worried you can't afford it, we can help you with financing too. We offer bedroom furniture on credit, even if you have no or poor credit, that can help you take home the furniture you want at a price you can afford.