Blog / How To Choose the Right Bed for Your Children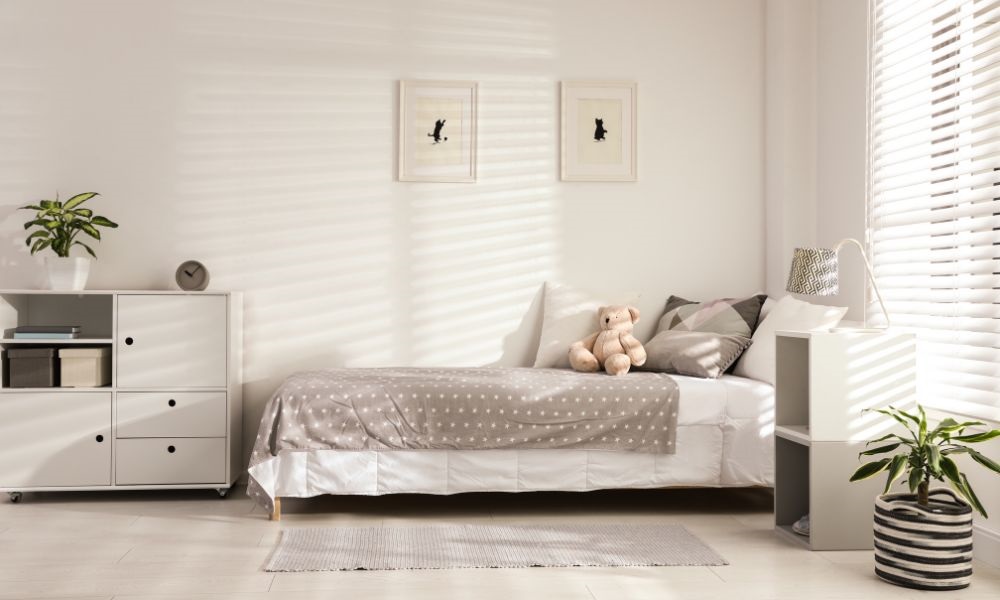 How To Choose the Right Bed for Your Children
Our children quickly grow up before our eyes. One minute they're sleeping snuggly in a crib next to our beds, and the next, they have their own bed in their own room. Helping them find the right bed for their room can be challenging, whether they're transitioning from a toddler bed to a bigger bed or just need a new mattress. Keep reading to learn how to choose the right bed for your children so you can give them the comfortable space they need.
Start With the Mattress
While kids are easily distracted by the aesthetics of their bedframe, you need to start with the mattress. Choosing the right mattress is essential to providing your kids with a comfortable place to rest and relax. There are lots of mattresses on the market, and we can help you get started finding the right one.
Size
What size mattress does your little one need? The most common mattress sizes for children are toddler and twin. Babies and young toddlers who sleep in a crib need crib mattresses, and older children growing into adolescents might need bigger mattresses such as a full—but toddler and twin mattresses are the most popular.
Unfortunately, there is no set standard for toddler mattresses. Many are the same size as crib mattresses for those who have convertible cribs, but some are slightly bigger. Most measure around 27 inches wide and 52 inches long.
Twin mattresses are 39 inches wide and 75 inches long. As you can see, this is much bigger than a toddler mattress, which is why moving your child from a crib to a toddler mattress before they move up to a twin mattress is a good idea. However, once your child is around 4 years old, a twin mattress is an appropriate choice.
Type
Most toddler and twin mattresses are innerspring. Innerspring is one of the most popular types of mattresses, and many people like sleeping on them. The springs allow the body to stay cool throughout the night. Also, these mattresses are typically more affordable. While innerspring mattresses do tend to shift motion, most toddlers and children will sleep alone on their mattresses, so the motion shouldn't bother anyone.
Memory foam is another popular option for toddler and twin mattresses. It's softer than innerspring mattresses, which many kids like, and stops motion transfer, which is great if you still co-sleep in some capacity. While memory foam can make the mattress user hot, kids are much smaller than adults, so the slight temperature increase shouldn't bother them.
Hybrid mattresses are also growing in popularity. Many of these hybrids have an innerspring interior with a built-in memory foam topper. You get the best of both worlds with this type of mattress. And although they are slightly more expensive than an innerspring mattress, they last longer than an innerspring does, which should give you an ample return on investment.
Choose the Right Bedframe
Once you know how big the mattress is and what kind it is, you can start looking at the fun part of bed shopping: the bedframe. Bedframes are where your child gets to show off their personality and make their room function how they want it to. There are many different kinds of bedframes that you and your child can pick from.
Types
Bunk or loft beds, day beds, and storage beds are three popular options other than the typical twin bedframe. If your child is sharing a room or likes to have friends sleep over, then a bunk bed is a great choice. You have two beds easily and safely stacked on top of each other that only take up the floor space of one bed.
Children who want more floor space and are old enough to feel safe on a ladder might want a loft bed. Some homes can't accommodate loft beds due to their height, so make sure to measure your ceiling height before agreeing to a loft bed.
Day beds look more like a couch than a bed, and many adolescents who are growing into teens love them. They give the room a more casual vibe and create a more comfortable space for hanging out with friends and doing homework. Some day beds have space underneath for a trundle bed, which makes sleepovers easy.
Parents and kids alike love storage beds. They make use of under-utilized space and give kids an extra opportunity to stay organized. Most of the time, you'll only see a storage option on twin bedframes and larger, especially since they tend to put the bed on a slight platform. Storage beds are safer for children 7 years and up due to the extra height and drawers.
Materials
The most popular bedframe materials are wood and metal. Some bedframes are upholstered, but this is also done on top of a wooden frame. Metal frames are often heavier—and therefore sturdier—than wooden bedframes, but both are a good choice as long as they were made well. You and your child should pick between metal, wood, and upholstery based on the aesthetics that each one offers.
Upholstered bedframes are a slightly safer choice for young children who might accidentally hit their heads climbing in or out of bed. The fabric and extra cushion underneath it provide a better barrier than an exposed metal or wooden frame. However, pillows along the headboard should protect your child from most mishaps.
Consider the Future
Even though most of us parents want to stop our kids from growing up so we can keep them little for a while longer, we can't do that. Our children will continue to grow in many ways, including physically, which will eventually affect the mattress and bed they've chosen.
Make sure to choose a mattress and bedframe that can grow with them—at least for the next several years. Some people want their child to use the same mattress and bedframe from age 5 to 18; if you picked a long-lasting mattress and frame, this is possible. However, no one can perfectly predict the future. Consider how your child will grow and change in the next 5 years and use that information to pick the best mattress and frame that you can right now. If it lasts longer, that's great—and if it doesn't, you did your best.
Choosing the right bed for your children means setting them up for a successful future of comfort and sleep with the right mattress and bedframe. If you're worried you can't afford the furniture they need, Grand Furniture can help. We offer bedroom furniture you can pay for monthly, which means you can put less money down and spread the expense out if you need to. We also offer other financing options to meet your needs.