Blog / What To Consider When Creating a Rustic Chic Dining Room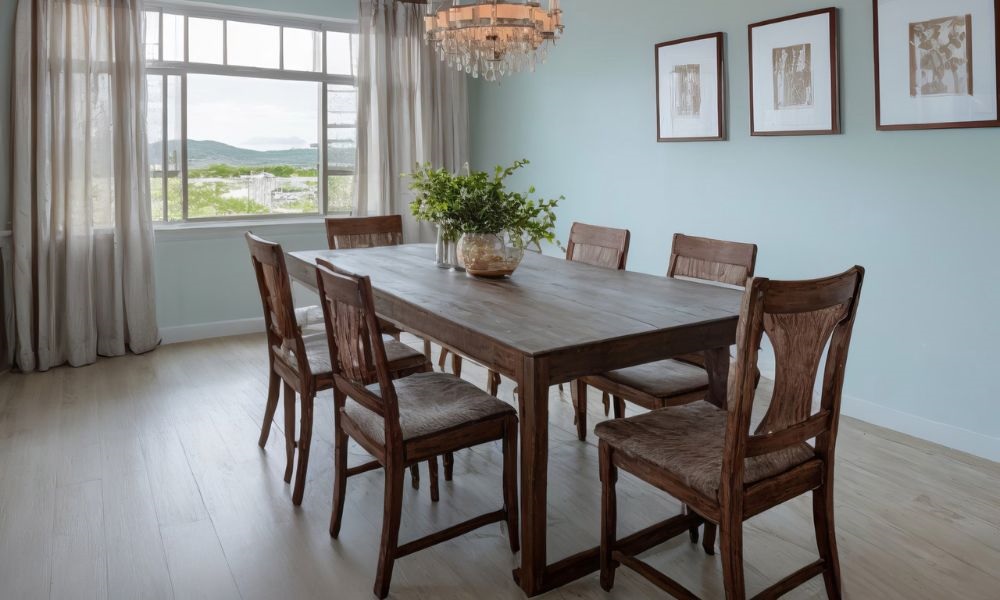 What To Consider When Creating a Rustic Chic Dining Room
You can pick from dozens of home styles as you try to give your house or apartment a central theme. Rustic chic is a unique style that's growing in popularity. The rustic chic style balances simple, weathered elements with hints of glamor, often with a color palette of warm neutrals and earth tones. Read more about what to consider when creating a rustic chic dining room below.
Paint the Walls in Warm Neutral or Earth Tones
Every inch of your space matters if you want to embrace a rustic chic aesthetic. Start with your walls. Many paint their walls a solid color for a rustic chic look, choosing either warm neutrals, such as white, or earth tones, such as green. Your choice between a neutral or colorful wall may come down to your furniture. You may prefer colorful walls if you want to accentuate white furniture. You may want to balance your more colorful furniture with warm neutral walls, especially if your furniture consists of dark colors.
Embrace Wood and Metal Elements
The best way to announce a rustic chic dining room is with an emphasis on wood and metal elements. This is easy in a dining room since most dining tables and chairs are wood. However, you shouldn't stop there. You can add more wood with new dining room doors, a mantle over a fireplace, or additional furniture such as a China hutch. Metal, either classic iron or new shiny copper, makes a great accent. Choose a metal light fixture, add a table piece made of metal, or leave your table set with metal utensils as often as possible.
Balance New Furniture With Old Pieces
Since rustic is the first part of rustic chic, it makes sense that your dining room should have some old, rustic pieces. Showcase some antiques and your favorite heirlooms in your dining room to embrace this style. Don't worry if you can't thrift many pieces at once. The chic part of the name allows you to bring in new items as you go. For example, you could buy a new dining table and chairs set while adding weathered family heirloom wall art and a centerpiece made from thrifted metal candlesticks.
Bring in Natural Textures to Finish the Look
Another important part of the rustic chic style is natural textures. Natural textures remind us of the countryside this style stems from, but they can come in more glamorous packages that elevate the space. It's the perfect combination! Choose natural fibers in neutral colors or earth tones to coordinate with the color scheme, such as a bamboo rug in light brown and a cotton table runner in green.
You should consider everything from wall color to rug material when creating a rustic chic dining room. Furniture is also a very important consideration. Grand Furniture offers dining tables and chairs on credit if you worry you can't afford the furniture you want for your new dining room style. Come into our store today to discuss financing options and find the perfect set for your home.